Mobile IT equipment
Hand-held code readers
Hand-held code readers, understood as hand-held computers integrated with a barcode reader or optionally with an RFID antenna, are used in the warehouse to carry out picking, inventory and cart transport operations.

In production processes, they are the most common devices used to record material consumption, demand for raw materials and operations carried out in the production nest.

The most commonly used code readers are those with a pistol grip (gun), but some warehouses use units without a grip, or forearm-mounted wrist readers.



The essential criteria to follow when choosing the right hand-held code reader:
• working conditions in the warehouse (temperature, humidity, dust, etc.),
• required barcode reading distance,
• barcode types used (1D, 2D),
• operations to be carried out using the hand-held readers,
• expected weight of the device,
• ergonomics (e.g. graphical interface, shortcut keys, etc.).

The use of hand-held readers should be considered in some operations in terms of the amount of information to be displayed simultaneously on the screen to the operator.
Forklift-mounted readers
Industrial forklift-mounted computers are certainly the most ergonomic and reliable device used in the implementation of forklift operations in warehouses and production processes.
Characteristic features of forklift-mounted computers are high resistance to adverse operating conditions (temperature, humidity, vibrations, etc.) and high convenience for operators.
Forklift-based computers are mounted on forklift trucks and, together with a code reader, are becoming an everyday tool for warehouse operators.
The large buttons on the touchscreens and the clearly communicated commands increase the working comfort and thus significantly improve employee productivity.
Komputery przemysłowe stosowane są ponadto do realizacji operacji kontroli wejściowej i wyjściowej. Montowane są wówczas jako urządzenia stacjonarne lub mobilne.
Industrial computers are also used to implement inbound and outbound control operations. They are then installed as stationary or mobile devices.
They are commonly used in warehouses and factories where working conditions, especially low temperatures, prevent the use of traditional PCs and system operations require a full-size screen.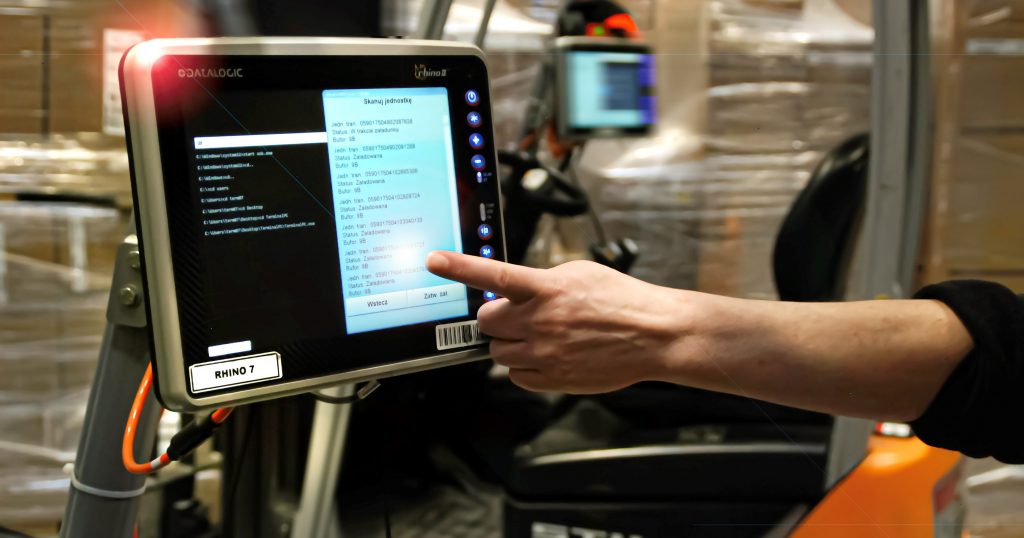 Wireless networks
Wireless networking is now the standard for data transfer in warehouses and production facilities

The use of batch solutions with data collectors has been superseded by online database connection solutions for reasons of convenience, reliability and cost. The radio network is a key component of the entire technical infrastructure, and its reliability and dependability contribute to the smoothness of the warehouse and production processes. The correct construction and configuration of the network also contribute to data security.

Professionally constructed radio networks enable smooth warehousing and production operations, regardless of the speed mobile devices. The most important elements of a WiFi network structure include:


access points,
antennas
switches
network infrastructure (e.g. cables) and ancillary materials (e.g. junction boxes).



Where extensive networks are constructed to operate over wide areas, especially in large industrial plants, additional tele-technical equipment and components are used. The following are required for each installation:


creating an individual radio network design based on warehouse construction and the characteristics of the stored goods and storage system,
installation, assembly and commissioning of radio network components,
measurement of wave propagation,
verification and optimisation of the radio network under real operating conditions


Photos